Go the Extra Mile with Mobile Apps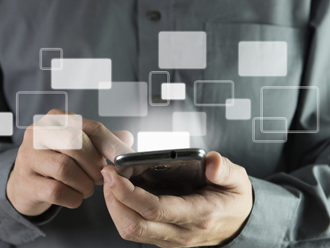 In an industry that was built on family values and neighborhood service, energy marketers are used to going the extra mile. That includes adapting to new technologies, and today, a robust mobile presence lets customers know you offer the utmost convenience and service. But what exactly is meant by a "robust mobile presence" and what does your business need?
"If my website is mobile friendly, do I need an app, too?"
The client who asks this is already looking at the cultural landscape for ways to expand the company's reach to current and prospective customers. And with forecasts of more than 5 billion smartphone users by the end of this year, that's a lot of prospects! The answer to this question is yes and no and maybe.
First, what's the difference?
A mobile website is just that, a site designed to display properly on smartphones and other devices. Mobile apps are developed for a specific platform and must be downloaded from an app store, usually iOS/Apple App Store or Android/Google Play. Apps offer additional functionality, like sending push notifications and using facial or fingerprint scanning for biometric log-ins or click to call/text for greater security and easier communications.
Your company must have a mobile-friendly website. More than 57 percent of online traffic comes from mobile devices, 51 percent of consumers discovered a new company/product from mobile search, and Google will not display a non-mobile site for searchers from mobile devices. If your site is not mobile-friendly, potential customers aren't even seeing you in search results, and current customers are complaining about your lack of functionality. Contact PriMedia for a free consultation today!
Do you need an app?
The answer to this depends on the features you offer on your website. Do you have a customer portal, e-store, online payment gateway or a lot of dynamic content? If so, the answer is probably yes, because:
90 percent of users' mobile time is spent in apps;
Biometric and stored log-ins make access easier;
Company branding is visible on the phone screen;
Easy in-app purchasing/ordering and payments drive sales;
Integration with CRM reduces staff workload;
Before starting, make sure your app designer can develop the features you require, has produced apps for both Google and Android systems, and can walk you through the registration process to get your app listed on the app store platforms. Confirm that they will develop the app to your business requirements, and will be able to integrate data from third-party vendors to give your customers a single log-in for full-circle services. PriMedia has developed customized apps for lead tracking, online ordering, and granular data and operations analysis for companies of all sizes.
To move your mobile presence forward with an app, contact PriMedia or call 1-800-796-3342 today. Our account services and web development teams will be happy to take you through the options available during your free, no-obligation consultation. Learn more at goprimedia.com.