Super-Powered Service & Sales Teams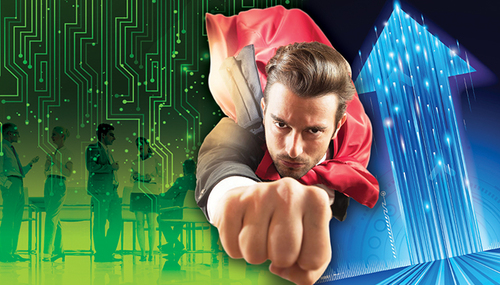 By Richard Rutigliano, PriMedia, Inc.
Two of the articles I've submitted to Oil & Energy for 2018 dealt with the energy industry's response to this past winter. The first, January/February's "Lessons from the Storm," discussed fuel dealers' immediate response — how to manage customer communications and expectations in the face of extreme weather conditions. The second, last month's "Flaunt Your Flexibility," focused on how to promote budget plans and price protection in response to consumer frustration with price spikes and delivery delays.
The winter of 2017-2018 (but mostly 2018 in this season's case) is over. However, there is one more component of winter-response marketing that I haven't covered yet, and to some, it just might be the most important of all. I'm talking about marketing system upgrades as smart, dependable, and affordable solutions for outdated, unreliable, inefficient home comfort equipment.
Just as price spikes and delivery delays create opportunities to sign up people for budget plans and price protection, no-heat emergencies and system repairs create opportunities to convince the homeowner it's time to upgrade to higher-efficiency equipment, or at least enroll in a service plan.
Now we all know system upgrades are usually a tough sell, but if ever there's a time to push them, it's in a season like this, when fuel deliveries are slowing down and those customers whose old units stumbled their way through winter are considering their options for next year.
Make no mistake, utilities see this opportunity, too, and with the help of their friends in state legislatures, they're using so-called energy-efficiency incentives to try and convince your customers to switch to electric heat pumps or natural gas heating systems.
Fortunately, heating oil and propane dealers have some reliable tools of their own. There are a number of new and updated programs that can help your service teams move more high-efficiency home comfort systems this spring. Give your employees the right training and tools, add a forceful marketing push, and you will consistently close the deal before your competitors can. The result: a super-powered service department helps carry your bottom line through FY2018 and into a more sustainable, i.e. profitable, future. Here's how…
The Sales Bug Bites
If you're familiar with superhero lore, you know there's typically an origin story structured around some unique incident that grants special powers to the hero- or heroine-to-be. In reality, however, a radioactive spider bite or sip of Vibranium-laced spring water will probably result in a worker's compensation lawsuit before it does you any good. So, what's the inciting moment that empowers your service people to sell?
There isn't any one deciding factor that inspires the sales bug to bite, but training is always a great place to start. An interactive, energetic seminar or webinar conducted by sales and marketing professionals with an energy and home comfort background can make a big difference in your company's sales. As a bonus, in addition to providing you with better-trained staff and more sales opportunities, you may see a reduction in customer turnover. Recent studies show that companies lose 71 percent of consumers due to poor customer service, and 47 percent of consumers polled said they would switch to a competitor within one day of experiencing poor customer service.
Still, some heating oil and propane business owners would rather hire additional salespeople than train their techs to sell. But these companies miss out on the season's sales opportunities. Your technicians are the faces of your company, as they are the ones in the home and working on the equipment when your company is needed most. With the right training and incentives, they can identify more at-risk equipment and customers, and at least get the sales process started. Training is an important first step in your effort to increase equipment sales, but it needs to be supported both in customer interactions and behind the scenes.
Your Trusty Gadgets
Some of the most famous superheroes don't have any superpowers at all. Instead, they come to the fight armed with a bunch of powerful high-tech devices. For companies looking to sell more high-efficiency, oil-fired home heating systems, PriMedia and the National Oilheat Research Alliance have developed two easy-to-use but incredibly effective programs: the Fuel Savings Analysis Calculator and the Upgrade & Save Energy Efficiency & Safety Rebate Program.
The FSA Calculator was just updated, and there is more about its expanded features on page 30. In a nutshell, techs and salespeople now have Ironman-worthy technology at their fingertips to show customers how much they could really save with a new high-efficiency heating system. As for the Upgrade & Save Rebates, suffice it to say that industry-wide, the program has processed nearly 3,000 new heating equipment rebates and more than 1,500 new storage tank rebates, providing consumers with nearly $2 million in money-back incentives while increasing the average homeowner's system efficiency by about 15%. (And that's just in terms of average AFUE; the real savings, as demonstrated by the FSA Calculator and industry reports, show even greater benefits.) On the industry level, that's over 4,000 homes that won't be switching to natural gas anytime soon and that are therefore far more likely to stick with their current fuel provider. On the dealer level, this is a value-proven incentive that any technician or salesperson can point to when working to sell a heating system upgrade, especially now that your customers are in winter-recovery mode.
Service pros equipped with the proper sales training and tools have clear advantages over those who enter the customer's home "unequipped." But the fact of the matter is, most service techs aren't going to close a deal in one visit. They can, however, "prime the pump" by offering professional, knowledgeable advice to the homeowner and then handing the call to your sales reps to provide the system-specific details needed to sway the customer. Here, persistence and lead management are key.
With an industry-specific sales and lead tracking system, you, your managers and your sales representatives will never lose a lead's contact information or forget to make a follow-up call. These programs will send alerts when too much time has passed without updating the lead information, keep all the customer information and sales notes in one place, store related documents, and offer advanced reporting and graphing to visually display each rep's close rate.
PriMedia's LeadPro system does all this and more. For example, you might use LeadPro to send a timely equipment-upgrade or automatic delivery promotion via email or text to every homeowner who called about a no-heat emergency this past winter, or send individual follow-up messages to that hard-to-reach customer. No matter where in the sales funnel the consumer may be, LeadPro will help your team move them along to the next stage. Make sure your sales and service teams know how to integrate this powerful tool. Then watch what happens!
Signals & Costumes
Keep in mind, that doesn't mean bombard your leads with sales calls and spam mail. It means use smart marketing strategies to follow up in a timely and convenient fashion. Consider automated messaging as a solid entry point, which you can build on with a similarly themed blog post, a newsletter article, or even a weekly boosted Facebook post. Keep putting signals out there and see what comes back.
Meanwhile, consider how you're costuming — that is, branding — your services and service teams. Clean uniforms and eye-catching service vans are vital, but so too is the overall image of your company. If your company has grown from oil or propane delivery to equipment sales and installation, air conditioning, plumbing, duct cleaning or any other service, it might be time to think about a name change. You might not want to stray too far from your current brand, though. The goal is not to confuse your loyal customers or conceal your identity, but rather to increase awareness about your company's diverse offerings.
With this in mind, we've helped many of our clients rebrand themselves in ways that preserve the identity and reputation of their legacy business while also broadening the company's appeal. Sometimes it is necessary because of the aforementioned diversification of services, others because of mergers and acquisitions. It goes without saying that this major business decision can involve months of planning and deliberation, but once again, there's no better time to start than right now.
PriMedia has been the energy and home comfort industry's source of custom sales and marketing solutions for 25 years. For more information on the FSA Calculator, Upgrade & Save Program, LeadPro, sales training, equipment marketing, rebranding and more, visit us at EEE Booth 407, call 800-796-3342, or check us out online at goprimedia.com.