The Return of Retro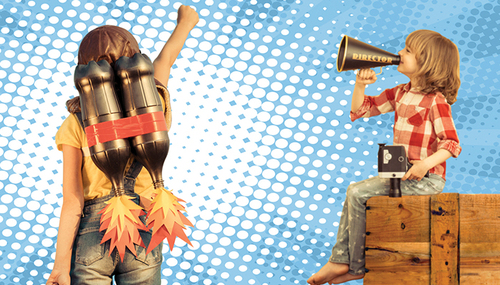 By Richard Rutigliano, PriMedia, Inc.
Facebook is selling user data. Teslas are killing drivers. Alexa is laughing at us. Well, kind of…
While these headlines might be good for clicks, the true story is always more complicated. Facebook does harvest and sell user data, but so do most of the biggest internet companies. There have been several high-profile accidents involving self-driving Teslas, but in many cases there were factors at play other than the vehicle's "Autopilot" function. And as it turns out, Alexa was mistakenly hearing the command, "Alexa, laugh" — at least, that's Amazon's story and they're sticking to it.
Regardless, with news items like these popping up every week, it's no wonder that a wave of digital distrust seems to be sweeping up consumers. What might surprise you is it's not just the old-timers who've grown wary of their techno overlords. Recent reports show that 60% of Gen Z and millennial shoppers prefer buying goods in stores rather than online. Of course, those same customers are quick to consult their phones for price comparisons, coupons and reviews before making the purchase.
I'm running in circles here, but that's the point. Like the news itself, consumer attitudes and marketing trends move in cycles. Today's trending topic is tomorrow's old hat, but only until it's the next day's popular throwback. The reason for this lies in fundamental psychology: humans are naturally drawn to the familiar. That's why Pepsico is able to pull a page out of the Coca Cola Classic playbook, with its "Pepsi Generations" campaign and accompanying vintage label design. Other big brands that have recently cashed in on retro marketing include Apple and Nintendo.
Can fuel delivery companies do the same? Should they even try? I believe the answer to both questions is yes, but with some caveats. Since many delivery companies are multigenerational businesses, with customers ranging in age from 30-somethings to seniors, there is plenty of room for retro in their marketing materials. However, for Propane, Oilheat, and Bioheat® fuel to be viewed as sustainable energy solutions
and trusted brands, modern and consistent messaging is required. Furthermore, we can't ignore the reality that today's customers demand online conveniences and mobile accessibility.
Like music-streaming platform Spotify using 1980s film The Neverending Story to promote itself to millennials, you can use something old to sell something new.
But you must remain mindful of how your business presents itself at every consumer interface, from the logos on your technicians' uniforms and truck wraps to the language in your company newsletters and online. In this industry, nuance is key, which is why it pays to work with an agency that's as familiar with your business as you want your customers to be.
With that in mind, the multigenerational, family-operated fuel delivery company is uniquely positioned to succeed in retro marketing. Here are a few ideal openings.
Retro Branding
With "Mergers & Acquisitions" on the editorial calendar for this month's edition of Oil & Energy, and with this issue landing in subscribers' hands smack-dab in the middle of trade show season, I'm confident that at least a few readers are in the midst of M&A negotiations and thinking about what their businesses will look like to customers when all is said and done.
Reintroducing an old company font or logo, but with a new twist, is a great way to reassure legacy accounts that they're still in good hands while giving younger customers something to look forward to as well. And a sharp, sticky tag line can help bridge that gap between the familiar and the future.
Consider how the "Pepsi Generations" campaign utilizes vintage packaging in conjunction with those snappy "This Is the Pespi" ads to reinforce the brand's iconic pop culture status. A company called ACME Oil & Propane that's expanding to offer biofuels and home automation service might rebrand as ACME Energy, bring back an old font and logo so the older customers recognize who they're dealing with, and add a tag like "Tomorrow's home comfort today" for the newer crowd.
That's just one example, and as I mentioned earlier, promoting fuel delivery requires a little more specificity, but the point stands: you can accomplish a heck of a lot with an old typeface, classic brand imagery and three or four methodically chosen words. This is especially true for legacy businesses, because they already have reputations to build on and reinforce via classic branding techniques.
Billboards, truck/van wraps and tech/driver uniforms all offer opportunities to re-establish a previously well-known brand. At the same time, however, you'll want to deploy that rebranding effort across neo-traditional marketing platforms — think print and e-newsletters; postcards and social media posts — to ensure your message remains consistent, inclusive, and accessible to all customers, new and old.
Nostalgia Advertising
If you're of the mind that print advertising is a thing of the past, think again.
A recent Meredith Corporation survey of Gen Z respondents (i.e., future customers) shows that 83% turn to newspapers for trustworthy information and content. Similarly, a FedEx Office survey says that nine in 10 consumers think there will always be a need for printed materials.
While these revelations might come as a shock to some, the reasoning behind them should surprise no one. In the era of "Fake News," comment trolls, and bot accounts, Gen Z and millennial readers turn to print because they perceive it as more believable and less distracting than social media.
Looking for an affordable, accessible and appropriate place to roll out or even test out your retro branding efforts? Believe it or not, ye olde town crier might be just the thing. Many of these weekly pubs are cheap to advertise in and freely available at places frequented by your existing customers and prospects. Plus, some maintain the same typefaces and headers over the decades, making them ripe for a seamlessly inserted nostalgia ad.
Nostalgia advertising is what Spotify did with the dragon from The Neverending Story, what Apple did with its Cookie Monster commercials, and what Pepsi is doing with Cindy Crawford and her son. These kinds of ads are great for attracting attention from both millennials and baby-boomers, because they hark back to happy moments shared between children and parents.
Granted, a family-owned oil and propane company is unlikely to have the resources needed for Sesame Street cross branding. But that's OK. Family businesses are arguably better positioned than an Apple or a Spotify to satiate consumer thirst for nostalgia. And as a business that is literally inside customer homes, yours doesn't need to make pop culture references to get the point across.
If you have an old stock room or company archive containing vintage ads, consider digging them out and having your marketing agency update them for a multigenerational-focused nostalgia advertising campaign. Old plugs like coal conversions can be subbed out for new service offerings; calls to action/contact points can be updated to include your new phone numbers and/or website info; and the overall design can be sharpened for high-res publication, all while maintaining the classic look and feel of the old-time ad. An agency with skilled in-house graphic designers, copyeditors and media buyers can bring it all together quickly and cost-effectively.
Even if you aren't keen on launching an all-out retro branding or nostalgia advertising campaign, your company's vintage ads, logos, and signage make for great content that might elicit friendly phone calls from your newsletter readers and shares from your social media followers. In the very least, use them as such!
Community Appreciation
Why do people smile when they see old-time ads? For that matter, why do some repurpose business signage as home décor? Researchers have drawn connections between the resurgence of Americana and the rise of social media. Photo apps like Instagram and Flickr offer virtual galleries for folk art, while networks such as Facebook and Twitter — despite all the bad press — create spaces for micro-communities, like, say ACME Energy customers, to come together.
And yet, 47% of Gen Z respondents to that Meredith survey said they intentionally put their phones away at least once a day.
As consumers make conscious efforts to log off and get out in the real world, family businesses can offer "safe spaces" for diverse gatherings of customers representing all ages, genders, income levels and backgrounds. It could be a company's anniversary celebration, a community BBQ, or a customer appreciation day — all of these events are tailor-made for reinforcing the brand reputation and personal connections upon which family businesses are built.
Newsletters, blog posts, and social media will help promote the event, and a special theme might help generate excitement, but once the guests start arriving, it will be on you and your team to do what you do best — connect with people on a personal level, building a genuine rapport with those prospects in attendance while reminding longtime customers why they chose your business in the first place.
And that's what retro marketing is all about.
PriMedia is currently celebrating 25 years as the fuel delivery business's most trusted source for branding, newsletters, advertising, event management and more. For assistance with any of these marketing solutions or anything else communications-related, give me a call at 800-796-3342 or visit goprimedia.com.