Where Brick-and-Mortar Meets Click-to-Order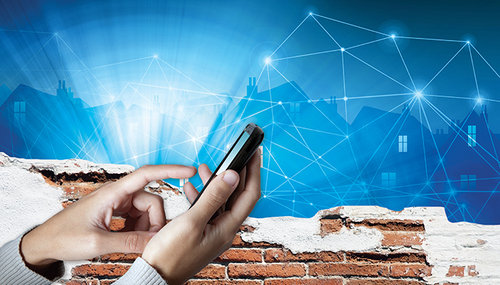 By Richard Rutigliano, PriMedia, Inc.
Imagine you are the shopkeeper of a local hardware store in the 1980s. (I'd go back further, but I'm afraid that would leave our millennial readers in the dust.) One Saturday afternoon, a guy comes in to pick up some nails — except you know the guy by name, it's Frank, and though he doesn't say exactly which length, you strongly suspect he's asking for 16-penny nails, because last week he was in here telling you about his plans to put in a backyard deck.
While fetching Frank his 16ds, you ask how the new flusher's holding up on his recent basement bathroom reno (the project that brought him into your shop last week). "Working perfect," he says, "thanks!" That reminds him, though: he ought to put a new plunger down there anyway. And while he's here, the wife had said something about switching out the hardware on the upstairs vanity.
Without really even trying, you just upsold Frank, significantly padding the total sale and your profit on the transaction. Best of all, it's not as if you had to be aggressive in your sales tactics. There was barely even a pitch! Frank and his wife did most of the work. You just asked the right question at the right time. And you were able to do so because of how you run your business. You keep a close relationship with each of your core customers, which enables you to speak directly to their individual needs.
Of course, the tragedy of the local hardware store is that despite its glowing reputation and great customer relations, most simply couldn't compete with the big-box chains like The Home Depot and Harbor Freight Tools.
Then again, what goes around comes around.
Many of today's small-business boutiques are fighting back against the big-box retailers — and actually winning the fight — by pushing the traditional customer-service-oriented business model into the 21st century with digital solutions like consumer apps and automated personalized marketing.
A record store on Long Island brings the old hole-punch loyalty card online using social media tagging. A thrifter in Minneapolis finds the perfect end table in an internet search advertisement placed by the antique store whose website she was just browsing minutes earlier. A fuel delivery company in Massachusetts uses a consumer app to help accelerate service plan and other contract enrollments.
The things that set your small to mid-size business apart from the national competition continue to hold water, especially for a new generation of consumers who expect businesses to intuit their needs and streamline their transactions.
Frank, the DIYer, is 65 years old now, and though the hardware store where he used to spend his weekends is long gone, he finds himself bugging the greeters at the big-box store that bought out his old haunt. But they can't offer the personal attention you can. In fact, it's exactly what he's been missing from virtually all service providers lately. Automated marketing and customized apps level the playing field, empowering you to satisfy consumer demand for both click-to-order convenience and brick-and-mortar personalization.
"Personalize" Your Marketing Solutions
Obviously, there are a number of differences between running a hardware store in the 1980s and a home comfort business in the 2010s. However, I use this example, because it so perfectly embodies the spirit of the old brick-and-mortar business model and so perfectly translates how old-school customer service lends itself to today's personalized marketing solutions. (Indeed, one wonders whether the local hardware store would still be around if some of these "tools" were available back then.)
While you might not have a service station where customers can come and fill up their propane tanks, or a showroom where they can check out the latest oil-condensing boiler technology, you do most likely have decades of experience in customer service. You probably already have someone on your team who knows, for example, that if Mrs. Grant on Fulton Street isn't given that seasonal reminder, she's not going to have her system inspected this year.
Now imagine how great of a heating season you'd have if every employee in your customer service and sales department knew every one of your customers this well and was able to predict their needs accordingly. That's the kind of "virtual omniscience" today's automated personalized marketing helps you achieve.
A recently picked up customer who's been shopping around heating oil prices for the season finds a search display advertisement from your company that can help them lock in a lower price through one of your contract programs. A longtime customer who, like clockwork, has been placing online requests for heating system repairs every eight months gets an in-portal reminder to sign up for a service plan. A prospect in your expanded service area gets an email alerting them that there's a new full-service fuel dealer in town.
Big-box retailers like CVS and Amazon have already made automated personalized marketing a cornerstone of their businesses: e.g., the coupons included on that ridiculously long receipt you get when you go through the self check-out aisle at CVS, or the "creepily" accurate gift recommendations you saw when you logged on to your Amazon account to start your holiday shopping.
Of course, the big difference here is that CVS, Amazon and the other big companies can't consistently back up their personalized marketing with real-life quality customer service interactions the way your company can and does every heating season.
Another key differentiator is your expertise. The new mom or dad on the CVS line knows she or he is going to need to buy diapers again soon. It doesn't take much of an algorithm to figure that one out! So, while the diaper coupon is valuable to this customer, it's not necessarily going to make a huge impression. On the other hand, not every customer of yours knows when it's time for a system tune-up, or what the advantages of one are. Automated personalized marketing helps position your company as the customer's full-service energy and comfort expert.
"Mobilize" Your Customer Experience
According to one recent survey, 72% of consumers think mobile apps make shopping easier. Another survey says 89% of retailers plan to give their store associates mobile solutions over the next three years. A third finds that 58% of millennials use mobile apps more often than the mobile web.
"But, wait, I don't even have an app!"
Well, don't worry … yet. Most heating oil and propane dealers don't have them … yet. However, as was the case with websites and later social media pages and then responsive websites, most dealers didn't have them until they started to see their competitors getting out in front of them, at which point they too realized that they needed to get on board. Like all technological innovations, the need to adopt home comfort customer apps will be driven by consumer demand. Likewise, it is the early adopters who stand to reap the biggest rewards from investing in this technology.
In recognition of the growing consumer demand for mobile apps, PriMedia has begun developing these solutions for our fuel dealer clients. Our custom-developed apps empower our clients to offer their customers in-app delivery and service scheduling, contract enrollment, online payment, personalized account information, one-touch contacts (via call, text or email), push notifications, loyalty program redemption, e-commerce access, and much, much more.
The app is branded so that the dealer's name, logo and tagline appear throughout. And like all major apps, it is available for a dealer's customers to download via Google Play and the Apple App Store. It is supported by a wide range of iOS and Android mobile devices and integrates smoothly with most energy retailers' enterprise software for a seamless transition between back- and front-end operations.
The app also features full integration with inVue customer account management and LeadPro lead tracking software, two of the primary engines for fuel delivery companies' data collection and personalized marketing efforts. This makes the app a perfect companion for your existing automated marketing campaign, or a great place to get one off the ground.
PriMedia's in-house team of developers provides all maintenance, updates and tech support, so you don't have to worry about going through a third-party tech company that doesn't understand your business. Instead, you'll deal directly with a team that focuses 100% of its time on making energy marketers like you more profitable.
The Main Street home comfort provider is one of the few, if not the only remaining business in which old-school, brick-and-mortar-style customer service is a given. Your company has continued to grow and thrive not in spite of, but because of, this fact. Personalized marketing and a mobile app simply enhance your existing service advantages, giving you another important leg up on the competition.
PriMedia has been providing fuel dealers with integrated marketing communications and innovative technology solutions since 1993. To schedule a free demo or consultation, call 1-800-896-3342 or contact us online at goprimedia.com.